09.06.2008
Euro-Mediterranean University enjoys broad political, moral and material support, says Prime Minister Janez Janša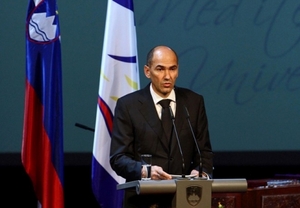 The Prime Minister of the Republic of Slovenia and current President of the European Council, Mr Janez Janša, today attended the celebration in Portorož on the occasion of the inauguration of the Euro-Mediterranean University (EMUNI). In his address, the Premier – the patron of honour of the event – stressed that the Euro-Mediterranean University enjoyed the political, moral and material support of the Euro-Mediterranean Parliamentary Assembly, the European Parliament and the European Commission. Moreover, the establishment of the Euro-Mediterranean University represents one of the specific projects of the European Year of Intercultural Dialogue; the university will become a focal point bringing together all 39 countries of the Euro-Mediterranean partnership.
"Europe and the Mediterranean have, since time immemorial, been inextricably linked. European culture, art and science still draw inspiration from the achievements of the ancient Egyptians, Hebrews, Phoenicians, Greeks, Romans and others who, in their own time, helped shape the region to which we belong," said the Prime Minister and went on to add that the Mediterranean was the meeting place of many religions, languages and cultures, all of which lent it its own unique charm now, at the beginning of the twenty-first century.
"We are aware that this is a partnership of countries and cultures that are similar yet diverse in many aspects. That it is a region of many antagonisms and pronounced differences. That it is a region not only united but also divided by its common sea, not only enriched but also troubled by its diverse cultures. That this plurality makes the region not only interesting but also unpredictable. But it is precisely because we are so diverse that we feel the need to meet up, the need for dialogue, research and mutual enrichment," said the Prime Minister. He stressed, in this regard, that the key to the future of the Mediterranean area lay in educating young people and making them ethical beings who were open to the world and regarded intercultural dialogue as an important human value. "This will also be a fundamental added value for the new university. And each individual working or teaching at this institution will be an ambassador of a special kind for intercultural dialogue."
The Slovenian Prime Minister also added that he was aware that a great deal of effort and knowledge had been put into the creation of EMUNI. The support that EMUNI enjoys from the international community will enable it to further develop and raise its profile to join the most excellent among institutions of intercultural cooperation in the international community.