12.06.2008
President of the Home Affairs Council Dragutin Mate to attend the plenary session of the European Parliament and the political trialogue - announcement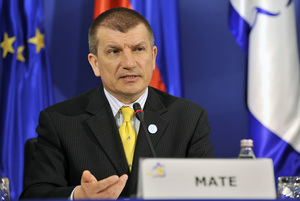 On 17 June 2008 in Strasbourg, the Slovenian Interior Minister and President of the Home Affairs Council Dragutin Mate will attend the discussion by MEPs on the proposal for the Directive of the European Parliament and of the Council on common standards and procedures in Member States for returning illegally staying third-country nationals (the Return Directive).
Following difficult negotiations in the Council working bodies, where the Member States had been seeking a compromise since 2005, and after three political trialogues with the European Parliament and the Commission, the Slovenian Presidency in late May received sufficient backing by the Member States at the level of the Permanent Representatives Committee to formulate a proposal for the Return Directive. The Parliament approved the text of the proposal, except the article concerning free legal assistance, which it proposed to be harmonised with the provisions of the Asylum Procedures Directive. Following additional bilateral negotiations with the Member States and an additional political trialogue with the European Parliament on 4 June 2008, the harmonised text of the proposal was also approved by the Permanent Representatives Committee, which sent it again to the European Parliament. The directive proposal will now be discussed by the Parliament at its session on 17 June 2008. If the majority of the MEPs votes in favour of the adoption of the directive, it will be adopted in the first reading.
On the margins of the plenary session, Minister Mate will attend the political trialogue with MEP Sarah Ludford, the European Parliament's rapporteur on the Regulation of the European Parliament and of the Council amending the Common Consular Instructions on visas for diplomatic missions and consular posts in relation to the introduction of biometrics including provision on the organisation of the reception and processing of visa applications. The purpose of the meeting is a formal exchange of views between the European Parliament and the Council on the text of the proposed instrument, whose adoption is necessary in view of the introduction of the Visa Information System.