12.06.2008
Ministers responsible for information society confirm conclusions in favour of increasing digitisation in Europe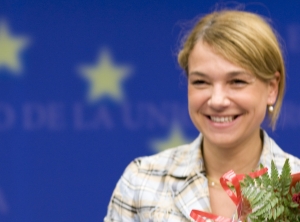 In the afternoon session of the first day of the Transport, Telecommunications and Energy Council meeting, chaired by Slovenian Minister of Higher Education, Science and Technology, Mojca Kucler Dolinar, the ministers focused on information society issues.
The ministers discussed a general approach regarding the European Network and Information Security Agency (ENISA) with a view to reaching agreement with the European Parliament at first reading.They reached agreement on a three-year extension of the Agency's mandate. This period will be devoted to deliberations and discussion on general guidelines related to European efforts in favour of increased network and information security.
The European Commission analysed the implementation of the i2010 Strategy – A European Information Society for Growth and Employment with regard to EU priorities in the field of growth and employment and prepared an interim report.On the basis of the report, the Slovenian Presidency drew up Council conclusions containing specific proposals for re-orienting the i2010 Strategy towards addressing new challenges. These conclusions were confirmed today by the ministers.
Later in the course of the meeting, the ministers took note of the Commission Communication '
Advancing the Internet: Action Plan for the deployment of Internet Protocol version 6 (IPv6) in Europe'
presenting measures for the expansion of the new Internet Protocol version by means of which the European Union will respond to the ever-increasing demand for internet services and hence also for internet addresses.