13.06.2008
Minister Rupel visits Skopje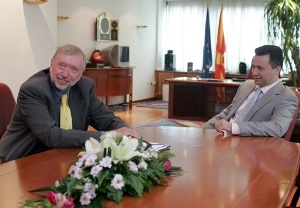 Slovenian Minister of Foreign Affairs and President of the General Affairs and External Relations Council (GAERC) Dimitrij Rupel is on a visit to Skopje today, where he met with the highest representatives of the Former Yugoslav Republic of Macedonia. They discussed two key issues – Macedonia's integration into Euro-Atlantic structures and preparations for repeat elections at certain polling stations that saw unrest and irregularities in the elections on 1 June.
Minister Rupel first met with Foreign Minister Antonio Milošoski, and later with Macedonian President Branko Crvenkovski and Prime Minister Nikola Gruevski. As part of the preparations for Monday's GAERC meeting, Minister Rupel and Prime Minister Gruevski talked mostly about Macedonia drawing closer to the European Union. Minister Rupel pointed out that presently the EU's door is wide open, and thus it would be wise to seize this favourable moment.
Minister Rupel also held a discussion on preparations for the elections that will again take place at those polling stations where irregularities occurred on 1 June. This issue was the main topic of his talks with Interior Minister Gordana Jankulovska, who acquainted the Slovenian Foreign Minister with measures adopted by the government to ensure peaceful and regular elections and to prevent any unrest. Minister Rupel also discussed Sunday's elections with the leaders of three political parties – Radmila Šekerinska of the Social Democratic Union of Macedonia, and Menduh Thaçi (Democratic Party of Albanians) and Ali Ahmeti (Democratic Union for Integration), leaders of the two Albanian community parties.