16.06.2008
General Affairs and External Relations Council discusses the Western Balkans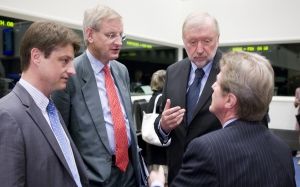 Under the presidency of Slovenian Minister of Foreign Affairs Dimitrij Rupel, the General Affairs and External Relations Council today discussed the Western Balkans. By way of introduction, the Council reiterated its "firm commitment" to the European perspective of the Western Balkan countries.
As regards Bosnia and Herzegovina, the Council welcomed the signing of the Stabilisation and Association Agreement as an important step that this country has taken on its path towards EU membership. The Council emphasised that it is now important for Bosnia and Herzegovina to implement the Agreement, and encouraged political parties to speed up the adoption of reforms.
With reference to the Former Yugoslav Republic of Macedonia (FYROM), the Council was acquainted with the course of the elections and condemned incidents and other irregularities that were noted by OSCE/ODIHR. The authorities were urged to investigate the matter without delay. The Council also invited the new parliament and the government to accelerate the adoption of reforms vital for the EU integration process. Moreover, it called upon all political parties to cooperate in implementing the Accession Partnership priorities.
In addition, the EU Council greeted the presentation of plans for gradual visa liberalisation for Albania, Bosnia and Herzegovina, the FYROM, Montenegro, and Serbia. This is a step towards fulfilling the will of the EU to provide free EU visas for citizens of the Western Balkan countries.