16.06.2008
Prime Minister Janez Janša receives President of the European Economic and Social Committee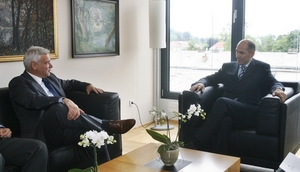 The Prime Minister of the Republic of Slovenia and current President of the European Council, Mr Janez Janša, had a meeting today with the President of the European Economic and Social Committee, Mr Dimitris Dimitriadis, who thanked the Prime Minister for the excellent cooperation the EESC had enjoyed with the Slovenian Presidency, adding that he looked forward to further cooperation between the European Economic and Social Committee and Slovenia after the conclusion of Slovenia's EU Council Presidency.
Mr Janša and Mr Dimitriadis discussed the topics of the forthcoming European Council and further procedures after the Irish 'no' vote on the Lisbon Treaty. In this connection, Mr Janša, stressed that there was a firm resolve to seek a way out of the situation that had emerged.
The EESC President, Mr Dimitriadis, commended the Slovenian EU Council Presidency on its achievements in the area of energy and climate change. The Slovenian Premier pointed out that these issues had also been core themes at the Summit meetings held to date under the Slovenian Presidency (the EU-Japan, EU-US and, in particular, EU-LAC summits). He considered that, in this field, the European Union should take the lead and, with its actions, set an example on the world scale.