16.06.2008
Minister Rupel on the Irish referendum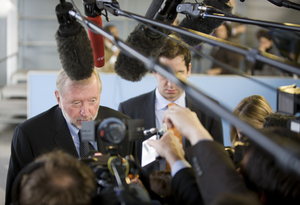 At the press conference which followed the signing of the Stabilisation and Association Agreement with Bosnia and Herzegovina, the EU General Affairs and External Relations Council President, Slovenian Foreign Minister Dimitrij Rupel, responded to a question on the implications of the Irish 'no' vote in the Lisbon Treaty referendum. He explained that some time had been dedicated to the issue at the Council session; Commission representatives and many ministers had taken part in a debate after hearing a report from the Irish Foreign Minister Micheál Martin.
Minister Rupel's assessment was that "we should take some time" for Member States to analyse the situation and consult each other. "We regret what has happened but we do not underestimate this event. Democracies have to respect the will of the people," he said, adding that the European Union would get over this hurdle, which was not a sign of crisis, but simply hesitation about reform. "Most Member States believe the reforms are necessary," he maintained.
In Minister Rupel's opinion, the ratification procedures should continue in those Member States which have yet to ratify the Treaty "to show that it is still alive". This will give Ireland a useful period for reflection on how to proceed, he underlined. "We should take some time; the Irish Government will consult at home and with its European partners with a view to finding an appropriate solution. However, I cannot ignore Mr Martin explicitly mentioning the importance of the EU's success," continued Minister Rupel.
The Slovenian Foreign Minister stressed that the result of the referendum in no way changed the European Union's policy on enlargement, which was linked to other processes. Moreover, the EU had unanimously decided to assure the entire Western Balkans of a future in Europe.