17.06.2008
EU opens two chapters in accession negotiations with Croatia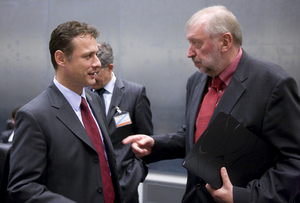 The current President of the EU General Affairs and External Relations Council, Slovenian Foreign Minister Dimitrij Rupel, chaired the accession conference today with Croatia; the Croatian delegation was headed by the Foreign Minister, Gordan Jandroković. At the accession conference, the European Union opened two new chapters, namely Chapter 2 (Freedom of Movement for Workers) and Chapter 19 (Employment and Social Policy).
Dr Rupel began by assessing that negotiations with Croatia were advancing positively and were about to enter a highly important and demanding phase. He noted that, in 2008, Croatia had adopted a national programme on its integration into the European Union. The greatest challenge is to build on results achieved, intensify reform and properly implement the Community acquis, especially in certain key areas such as the judiciary, public administration reform and combating corruption. The European Union encourages Croatia to continue its efforts in favour of good neighbourly relations, including searching for mutually acceptable definitive solutions to all unresolved issues with neighbouring states, in particular those concerning borders and endeavours towards regional reconciliation.
According to the Slovenian Foreign Minister, Croatia is adequately prepared to start negotiations on the two newly-opened chapters; however, some commitments still have to be fulfilled by Croatia.
On the free movement of workers, Dr Rupel reported that the EU agreed that this chapter could be closed when Croatia had shown that it had all the appropriate administrative structures in place to implement the Community acquis properly, particularly in terms of the coordination of social security systems. The EU assesses that a transitional period restricting the free movement of workers from Croatia will have to be imposed. Lastly, the EU will have to examine whether Croatian legislation contains discriminatory provisions against workers from EU Member States.
In the area of social policy and employment, Croatia will have to bring its labour legislation and its Safety and Health at Work Act into line with the Community acquis, and adopt new non-discriminatory legislation and an equal opportunities act.
At the meeting, the ministers agreed on opening negotiation chapters on Trans-European networks, financial and budgetary provisions and transport policy and energy.