17.06.2008
EU opens two chapters in accession negotiations with Turkey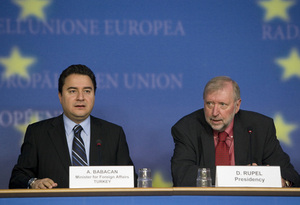 The President of the General Affairs and External Relations Council, Slovenian Foreign Minister Dimitrij Rupel, today chaired the accession conference with Turkey. The Turkish delegation was headed by Turkish Foreign Minister Ali Babacan. At the accession conference, the European Union opened two new chapters, namely Chapter 6 (Company Law) and Chapter 7 (Intellectual Property Law).
In his opening address, Dr Rupel welcomed the resolution of the political and constitutional crisis in 2007 and the organisation of parliamentary and presidential elections in July last year. "The high voter turnout and the broad representativity of the new parliament demonstrate the Turkish people's desire for democracy, stability and progress," he said.
The European Union closely monitors developments in Turkey, with particular attention to the restrictive attitude towards certain political parties, while believing that the resolution of the dispute will be achieved in line with the principles and guidelines of the European Court of Human Rights and the Venice Commission. In any case, the European Union calls upon all the actors in the Turkish political arena to resolve differences of opinion through dialogue and compromise, while respecting the principles of the rule of law, the fundamental freedoms of all citizens, the constitution and democratic secularism.
Dr Rupel emphasised that, in this regard, it was most important that Turkey continued to focus fully on the reform needed in order to comply with the Copenhagen criteria and fulfil priorities under the Accession Partnership. In this context, it is significant that Turkey recently revised Article 301 of its Penal Code and adopted a new law on foundations. However, the effective implementation of all reforms, particularly in areas affecting freedom of speech and freedom of religion, still remains an important issue.
In concluding, Dr Rupel pointed out that the course of the negotiations would depend mainly on Turkey's readiness to fulfil requirements under the Accession Agreement. In this regard, he welcomed the Turkish decision to draft a national programme for the adoption of the acquis.