17.06.2008
Minister Mate at successful political trialogue on Common Consular Instructions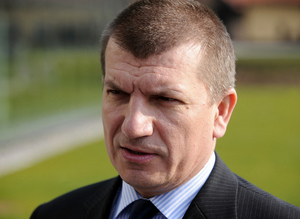 On the margins of today's plenary session of the European Parliament in Strasbourg, Slovenian Interior Minister and President of the Home Affairs Council Dragutin Mate attended a political trialogue with MEP Sarah Ludford, the European Parliament's rapporteur on the Regulation of the European Parliament and of the Council amending the Common Consular Instructions on visas for diplomatic missions and consular posts in relation to the introduction of biometrics, including provisions on the organisation of the reception and processing of visa applications.
The discussions, whose purpose was a formal exchange of views between the European Parliament and the Council regarding the text of the proposed instrument, focused on three key issues: the age at which children's fingerprints can be taken in visa procedure, security standards in transferring such data to consulates and rules regarding cooperation with external service providers in visa procedure.
Minister Mate concluded by stating: "The political trialogue helped clarify the positions of both institutions on key issues, making it easier to arrive at an adequate compromise final text." As the adoption of the proposed instrument is necessary in view of the introduction of the Visa Information System (VIS), discussions will be taken forward during the French Presidency of the EU Council.