21.06.2008
Informal Meeting of Defence Ministers of South-Eastern Europe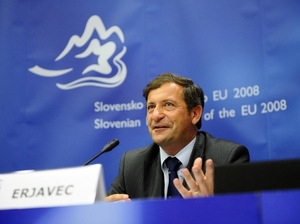 On Friday 20 and Saturday 21 June, the first Informal Meeting of Defence Ministers of South-Eastern Europe (SEE) was held in Sotelia Hotel, Podčetrtek, Slovenia. Alongside the SEE Defence Ministers and their deputies, the meeting was attended by senior representatives of Italy, Hungary, the EU and NATO. Participants at the meeting, chaired by Slovenian Defence Minister Karl Erjavec, discussed the current state of affairs and future possibilities for cooperation in the area of defence in the region. All participants agreed on the importance of pursuing practical forms of regional integration. The meeting confirmed the conclusions of the 8th Clearinghouse Conference held at Brdo pri Kranju from 18 to 20 June.
The participants highlighted the importance of closer ties between the SEE countries and stressed, in particular, that these countries are assuming an increasingly important role in projects and taking on the active ownership of processes. The significance of the Western Balkan countries having realistic prospects of joining the Euro-Atlantic structures was stressed. The meeting provided an opportunity for exchanging up-to-date information and views on defence and security sector reform in the light of progress in terms of joining and being integrated into  accession and integration the Euro-Atlantic structures. In addition, views from NATO and the EU contributed to an all-round review of these issues. All participants stressed the need to enhance mechanisms to meet the needs of the regional partner countries and rationalise mutual cooperation.
The meeting of SEE Defence Ministers was particularly important in further enhancing the mutual trust that is surely a major contribution to stability and security in the region.
Poseben pomen srečanja obrambnih ministrov JVE je tudi v nadaljnji krepitvi medsebojnega zaupanja, kar prav gotovo prispeva k stabilizaciji in varnosti v regiji.