23.06.2008
Slovenian Minister of Agriculture Iztok Jarc on Achievements of the Trio Presidency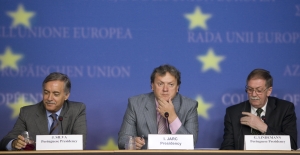 Before the last EU Agriculture and Fisheries Council meeting under the Slovenian Presidency, today, the Slovenian Minister for Agriculture, Forestry and Food and current Council President, Iztok Jarc, highlighted the importance of work and cooperation under the trio Presidency. Germany, Portugal and Slovenia had set out their objectives in a well-prepared 18-month Presidency programme, said the Minister, and had for the most part accomplished their objectives in every area. Among the trio Presidency's achievements he highlighted simplification and removal of administrative barriers, reform of the wine sector, progress on the plant protection products package and the common agricultural policy (CAP) healthcheck.
"I consider the 18-month programme a timescale that is appropriate to enabling objectives to be achieved more easily, particularly on complex and demanding dossiers. Six months is too short to go into subjects in detail," stressed Mr Jarc.
On simplification and the removal of administrative barriers within the CAP, the Minister pointed out the Single Common Market Organisation Regulation streamlining and organising 21 market organisations under a single scheme and amendment of the Regulation simplifying cross-compliance.
An important achievement of the trio Presidency was the wine sector reform. Political agreement was reached under the Portugal Presidency, while the Slovenian Presidency framed and adopted the final text of the Regulation.
All three Presidencies dedicated a great deal of time to the pesticide package. Political agreement on the Regulation on the placing of plant protection products on the market – expected to be achieved at the present EU Council meeting – will enable the legislative package to be submitted to Parliament for second reading.
In addition to an intensive debate on the CAP reform healthcheck, as part of which the EU Council of Ministers, in March, gave the Commission a framework for short-term CAP amendments, the Council also focused on the question of the long-term development of the common agricultural policy after 2013.
"These successes are a result of genuinely excellent, constructive cooperation between all three Presidency countries. Assuming the Presidency of the EU Council has been an exceptional challenge for Slovenia and a great responsibility, particularly from the organisational and political point of view," commented Mr Jarc, going on to congratulate the German and Portuguese Ministers of Agriculture on their excellent work and to thank them for their assistance and support they had given the Slovenian Presidency.