23.06.2008
Slovenian Culture Minister Vasko Simoniti tells EP committee, "All our set objectives were achieved in full and, in many areas, exceeded."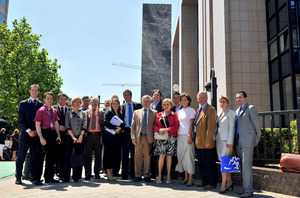 Today in Brussels Dr Vasko Simoniti, Minister of Culture of the Republic of Slovenia gave a final report to the meeting of the European Parliament Committee on Culture and Education (CULT). Before that, at 12.30 in front of the Justus Lipsius Council building on Place Schuman, he donated a sculptural monolith bearing the quotation 'May all peoples thrive and prosper' in 23 languages, a lasting symbol of Slovenia's EU Council Presidency in Brussels.
The sculpture in front of the Justus Lipsius building is intended to be a permanent commemoration of the Slovenian EU Council Presidency. The column a little over four metres in height and one metre in width is made of a dark stone typical of Slovenia. The central decorative element of the monolith is the inscription 'May all peoples thrive and prosper' in all the EU languages, first Slovene and then the other 22 official languages. The project designer, Professor Boris Podrecca, and his team tailored the order of the languages, taking account of the length of the line of verse, to match the vein in the rock. Alongside the line of verse in each language, the sculpture also bears the name of its author, with the words, "F. Prešeren (1800-1849) Slovenija 2008". The stone was donated by the Marmor Hotavlje company.
Addressing the MEPs that are members of the European Parliament's Committee for Culture and Education, the Slovenian Culture Minister and current EYC Council Chairman, Vasko Simoniti, outlined the Slovenian Presidency's achievements in the area of culture and audiovisual policy in the last six months. He underlined, in particular, the adoption of the action plan for the next three-year period and the adoption of Council conclusions on intercultural competencies through which the Slovenian Presidency aims to promote intercultural dialogue, one of its priorities. The Minister also mentioned audiovisual policy and, in particular, the importance of the broad discussion on creative online content initiated by the Slovenian Presidency, the adoption of Council conclusions on media literacy and adoption of a general approach to the new Safer Internet programme. He also presented the achievements of the conferences organised by the Ministry of Culture during the Slovenian Presidency and the results of efforts to mainstream culture into the EU's international cooperation with partner countries.