23.06.2008
A lasting souvenir of Slovenia's EU Presidency in front of Justus Lipsius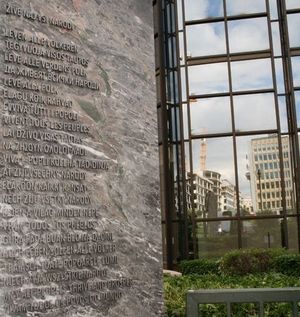 Slovenian minister of culture Vasko Simonitti today handed over to Director General and Head of Protocol of the Council's General Secretariat Marc Lepovre a marble monolith, a monument to Slovenia's first EU Presidency. The statue, which stands in front of the Justus Lipsius building in Brussels, carries the verse "God's blessings on all nations" from Slovenia's national anthem in 23 official EU languages.
The four meter high and one meter wide monument is made of a 2-ton block of marble from Western Slovenia. The verse, taken from the poem "A Toast" by renowned Slovenian 19th century poet France Prešeren, which is also Slovenian national anthem, is first written in Slovene, followed by 22 other official EU languages. The author of the monument, architect Boris Podrecca, adapted the order of the verses according to their length to the streaks naturally present in the marble.
Minister Zver emphasised today that a monument carrying a verse from Prešern's poem, in which he is calling to unity among all nations, is a fitting souvenir of the first presidency from one of the newest EU member states. "This also captures the meaning and mission of this monument, which will always stand in an intersection that carries the name of Schuman, one of the fathers of the European integration, and which will permanently represent a patch of Slovenian soil in the heart of Europe," said minister Simonitti.
He also recalled that Prešeren's verse carries the essence of the European Year of Intercultural Dialogue, which officially started at the same time as the Slovenian Presidency, and which was also one of the priorities of the Slovenian presidency programme.
The monument now stands in front of the Council's Justus Lipsius building, on the corner of Loi and Froissart streets in Brussels.