24.06.2008
EU Ministers for fisheries reach agreement on fight against unlawful, unregulated and unreported fishing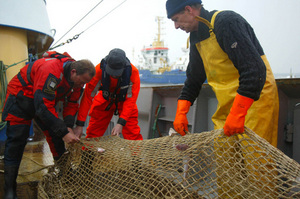 EU Ministers competent for fisheries headed by the Slovenian  Minister Iztok Jarc adopted the regulation establishing the system for the fight against unlawful, unregulated and unreported fishing.  It is a priority file of the Slovenian Presidency and the Commission in the field of fisheries. "The adopted Regulation sets an example for other world countries as well as international and regional organisations from the fisheries field," said Slovenian Minister Jarc after the adoption.
"Today the EU Member States demonstrated their commitment to eradicate, prevent and sanction the trade in fishery products derived from such fishing," said Minister Jarc and added: "By this step, the EU made a big and concrete step forward to an efficient fight against fishing threatening more than a quarter of global fish stocks and reducing the competitiveness of the European fishery sector."
In the field of fishery product traceability the Regulation introduces the system of guarantees of their origin with the intention to prevent the entry of illegally caught and imported fish in the EU market. "This will close the door to the unfair competition to the legal fishing and enable a long-term stable income for the European fishermen,« stressed Slovenian Minister Jarc. In addition, this will make the EU approach to the maintenance and sustainable management of fish stocks more efficient.
The EU vessels involved in unlawful, unregulated and unreported fishing will be placed on a special list of vessels to be sanctioned accordingly. Under the new arrangements the sanctions, considerably stricter at the EU level for the most severe violations, will be also applied to the third countries protecting such vessels and products.
The provisions of the Regulation apply to all EU vessels anywhere in the world, and to the vessels from the third countries in the Community waters. The Regulation and all its provisions will enter into force in 2010.