24.06.2008
Foreign Minister Rupel at Berlin Conference on Palestinian Civil Security and Rule of Law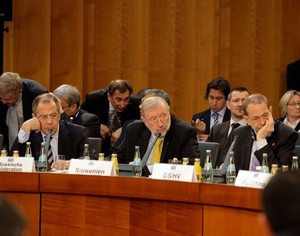 Attending the Conference in Support of Palestinian Civil Security and Rule of Law today, the current EU General Affairs and External Relations Council President, Slovenian Foreign Minister Dimitrij Rupel confirmed the European Union's commitment to actively participating in strengthening civil security forces and the rule of law in Palestine. The Conference, which is being attended by senior representatives of many countries and international organisations, including the US Secretary of State Condoleezza Rice, the Russian Foreign Minister Sergei Lavrov and the official Envoy of the Quartet on the Middle East Tony Blair, was opened by the German Chancellor Angela Merkel.
The purpose of the Conference is to discuss support for the Palestinian authorities in the process of institution building. In opening his address, Dr Rupel – representing the European Union at the conference alongside the EU High Representative for the Common Foreign and Security Policy, Javier Solana, and the European Commissioner for External Relations and European Neighbourhood Policy, Benita Ferrero-Waldner – pointed out some encouraging new developments, such as the ceasefire in the Gaza Strip, indicating that negotiations, with international assistance, are the only way to achieve long-lasting peace and security in the region. "Another of the international community's priorities is investment in reform of the Palestinian security sector, this being an essential component of all efforts directed at progressing the Middle East peace process," underlined the Slovenian Foreign Minister.
Dr Rupel made a point of thanking Germany for organising the Conference and also raised the subject of the EU Action Strategy and its priority of organising a modern and efficient Palestinian police force which will, in tandem with the judicial system, form an essential part of the future Palestinian State. The European Union has made an effective start on related activities in Nablus and Jenin. In order for these initiatives to be successful, cooperation between the Palestinian authorities and Israel is crucial.
As part of its efforts, the EU is reinforcing the EUPOL COPPS mission to support the Palestinian civil police. The mission's activities will be further intensified and will expand to cover the judicial system. "It is a major step," assessed Dr Rupel. It will naturally require the close cooperation of the local authorities. The EU is not acting alone; it is collaborating closely with other international actors with a view to ensuring the complementarity of initiatives.
In concluding, Dr Rupel noted, "We have to be realistic. Nonetheless, today, there are many reasons for hope." He then expressed the hope that the Berlin Conference would contribute towards a stable, safe and democratic Palestinian State.