30.06.2008
Goodbye and thank you from the www.eu2008.si website editorial team upon the conclusion of the Slovenian EU Council Presidency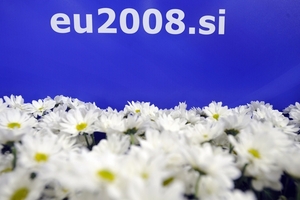 This is the last day of Slovenia's Presidency of the Council of the European Union. We, the members of the www.eu2008.si website editorial team, would like to thank all the internet users that have visited our website and the mobile portal and made good use of their services in the last six months. More than 765,000 visits and 3,765,000 pageviews on the Slovenian Presidency website clearly support our presumption.
We would also like to express special thanks to everyone involved in setting up and finalising the format of the website and, in particular, to the people who provided the content for publication online. We have endeavoured throughout to provide up-to-date content-rich information on the events taking place under the Slovenian Presidency, and we hope that we have met every expectation.We would also like to thank everyone who filled out the questionnaire on the www.eu2008.si website. The analysis of the questionnaire is available here
In future, the website will continue to be accessible online as a source of information. Its content, however, will not be further updated.
We are proud to hand over the editorship of the official Presidency website to our French colleagues. We wish them every success in their work.
So, bienvenue sur www.eu2008.fr

The Slovenian Presidency website editorial team
Nataša Pavšek, Nataša Marvin, Simona Vučak, Darja Rabzelj, Blaž Palir, Vesna Zadnik