05.03.2008
The EU-Canada Ministerial Troika on the Western Balkans and the situation in Afghanistan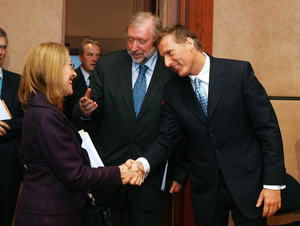 The President of the EU General Affairs and External Relations Council, Slovenian Foreign Minister Dimitrij Rupel, chaired a Ministerial Meeting of the EU-Canada Troika in Brussels. The EU delegation, in addition to Minister Rupel, consisted of the EU Commissioner for External Relations and European Neighbourhood Policy, Dr Benita Ferrero-Waldner, and the representative of the EU Council Secretariat, Robert Cooper. The Canadian delegation was led by Canadian Foreign Minister Maxime Bernier.
Minister Rupel said that the meeting was devoted to the following topics: Kosovo and the situation in the Western Balkans, Afghanistan and Pakistan, and the Middle East Peace Process.
On the situation in the Western Balkans, Dr Rupel said that stability is of crucial importance for the security and prosperity of the entire region. In 2008, a number of important milestones will be achieved: a review of the Thessaloniki Agenda, the envisaged conclusion of Stabilisation and Association Agreements with the countries of the region, and the strengthening of regional cooperation. As regards Kosovo, some important decisions have been made over the last few weeks. The December European Council made a commitment to enhance the EU's role in creating stability and contributing to the international presence in Kosovo. The necessary preparations to reinforce the EU presence in Kosovo have been concluded and legal foundations to deploy the EU civil mission to Kosovo adopted. The EU will cooperate with the UN, KFOR and the OSCE, as well as other players that participate in maintaining stability in the region.
The European Commission today released a report on the Western Balkans. New initiatives, coming alongside strengthening the current ones, aim at supporting the political and economic development of the countries in the region and thus promoting their European perspective.
Minister Rupel thanked Foreign Minister Maxime Bernier for Canada's contribution towards creating peace and stability in Afghanistan and thus stabilising the entire region. The Canadian armed forces, contributing the largest ISAF contingent in Afghanistan, are stationed in Kandahar. Canada is also an important partner in development cooperation with Afghanistan.
When discussing the Middle East Peace Process, Minister Rupel emphasised that the European Union was closely monitoring last week's developments in the region, which were deemed unacceptable and might jeopardise the Annapolis process. The priority is to stop the violence and call upon all parties to start negotiating.
The EU-Canada Ministerial Troika meeting also discussed the political situation in Latin America, paying particular attention to Cuba, Colombia and Ecuador.