06.03.2008
EU-US Ministerial Troika Meeting chaired by EU General Affairs and External Relations Council President, Slovenian Foreign Minister Dimitrij Rupel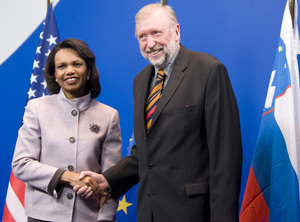 The Minister of Foreign Affairs of the Republic of Slovenia and current President of the EU General Affairs and External Relations Council, Dimitrij Rupel, chaired a meeting of the EU Troika with the United States of America. The EU was also represented at the meeting by the European Commissioner for External Relations and European Neighbourhood Policy, Benita Ferrero-Waldner, and the High Representative for the Common Foreign and Security Policy, Javier Solana. The American delegation was headed by the United States Secretary of State, Condoleezza Rice. In addition to the Western Balkans, the forthcoming EU-US Summit and the US visa-waiver program for EU Member States, the talks also focused on Russia, Afghanistan and Pakistan, Iran, Israeli-Palestinian relations and crisis areas in Africa.
Special attention was paid to the situation in the Western Balkans, especially Kosovo. The EU intends to cooperate closely with the UN, KFOR, OSCE and other international organisations ensuring stability in the region.
Minister Rupel reported that the talks had also addressed preparations for the EU-US Summit to be held in Slovenia in June. He underscored that the Summit should be a demonstration of unity in transatlantic cooperation, sending out a clear message regarding the importance of our mutual relations and shared responsibility in resolving global challenges. Minister Rupel also identified some of the priority topics to be addressed at the Slovenian Summit: regional issues (the Western Balkans, the Middle East peace process), economic cooperation and energy issues.
The US visa-waiver program for EU Member States was one of the key subjects discussed at the meeting. The Slovenian Minister of Foreign Affairs highlighted the intention to include all the EU Member States in the program and the American guarantee of cooperation, noting, nevertheless, that concerns about ensuring safety were justified. "We hope the United States will respond favourably," emphasised Minister Rupel, observing that the matter would be discussed in greater detail at the EU-US Ministerial Troika Meeting on Justice and Home Affairs to be held on 13 March in Slovenia.
Minister Rupel made it clear that the European Union's position was that all EU Member States should be included in the visa-waiver program, explaining, "All European citizens want to be able to travel to the USA without restriction; it is in everyone's common interest. We think the visa-waiver program should be available for everybody, with due regard for European legislation and existing bilateral agreements."
Consequently, "we have some reservations concerning the memoranda that the USA has sought to conclude with individual EU Member States, given that we have a common European visa policy," concluded Minister Rupel, adding that the EU had yesterday agreed an approach on the issue.