06.03.2008
Developed research infrastructure – the first precondition for achieving Lisbon objectives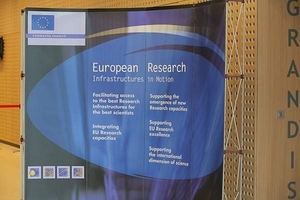 Participants at the conference held yesterday and today at Brdo, entitled "Research Infrastuctures and their Structuring Dimension within the European Research Area", addressed the question of how Europe can make better use of its scientific potential, strengthen the European research area and thus achieve the Lisbon objectives through systematic regional, national and European coordination. Mojca Kucler Dolinar, Slovenian Minister of Higher Education, Science and Technology, and Co-President of the EU Competitiveness Council, noted that "only through active regional partnership can the European Union become the most competitive economy in the world." Ms Danuta Hübner, the European Commissioner for Regional Policy, Dr Janez Potočnik, the European Commissioner for Science and Research, and Dr Žiga Turk, the Slovenian Minister for Growth, took part in the conference. Minister Turk said: "The economy of knowledge is based on talents. Talents are attracted by technology; therefore we need an excellent research structure to prevent brain drain to the United States. We must create conditions making this infrastructure available to all who excel."
Research infrastructure includes research equipment, databases, laboratories, etc., which, combined with human resources, provide a basis for the development of a knowledge-based society. At the conference, cases of good practice were presented, which showed how policy can best be framed with a view to establishing and starting up research infrastructure facilities at the European, national, and regional level.  Successful public-private partnership models for investment in research infrastructure were highlighted, as well as examples of coordinated drawing on different funding sources (Structural Funds, the Seventh Framework Programme, the European Investment Bank, regional funds and national funding).
Cities and regions are the driving connecting force in the creation of a knowledge-based society. Since most existing research infrastructure is, for historical reasons, located in the western part of the European Union, particular emphasis at the conference was placed on the need for research infrastructure to be distributed strategically across the whole territory of the EU. Only thus can the European research area attain its full potential as a driving force of the Lisbon process.
At the conference, the Commission presented a handbook for the best possible coordinated utilisation of various resources in developing research infrastructure at all three levels. The handbook, signed by the European commissioners Danuta Hübner, Janez Potočnik and Günther Verheugen, is intended to further promote development of regions in the area of science excellence.
At the EU Council meeting, the Slovenian Presidency will present a summary of the debate, which may be useful as a basis for the conclusions of the Competitiveness Council scheduled for May.