11.03.2008
Balanced nutrition and regular physical activity are crucial to improving health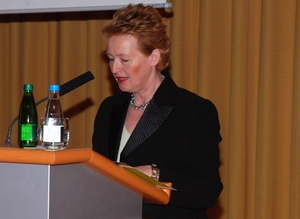 The Slovenian Minister of Health, Zofija Mazej Kukovič, today gave an address opening the two-day Conference on "Cross-Sectoral Policies for Nutrition and Physical Activity – Implementation and Monitoring" in Radenci, Slovenia. At the conference, representatives from the EU Member States discussed the importance of healthy and balanced nutrition and regular physical activity in promoting health and better quality of life in all age groups of the population.
The conference is a follow-up to the Baton project, started by Germany during its EU Council Presidency. The Slovenian Ministry of Health decided to continue the Baton project emphasising the importance of balanced nutrition and regular physical activity for health. This event is aimed at underlining cross-sectoral cooperation in implementing nutrition and physical activity policies and monitoring.
"I firmly believe that the key to the improvement and promotion of health lies in good cross-sectoral cooperation among various actors at international, national and local levels. I am convinced every one of us is aware that, rather than being generated by the health care sector alone, health is prevailingly a result of the coordinated policies of other sectors and political decisions which are in line with the principles of the protection of human health and environment," emphasised the Minister.
She added that key strategic action documents were available to the Member States and that it was high time for us all to "begin to act and to use every opportunity to exchange the already acquired practical experience and good practices which will without any doubt ease our way to attain the set objectives."
As an example of good practice, the Slovenian regional pilot project "MURA – Investment in Health and Development" will be presented at the conference. The MURA project was developed in response to marked regional inequalities in health as well as in the environmental and socio-economic development of the Pomurje region. With a range of regional development activities and projects in the areas of economy, social development, education and training, motivation and awareness-raising, the project is aimed at enhancing possibilities for faster economic development and better quality of life and thereby improving public health in Pomurje.