11.03.2008
Minister Rupel heads EU-Ukraine Cooperation Council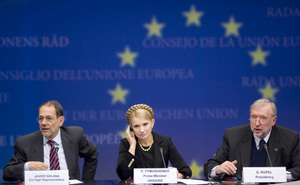 Today in Brussels, the current President of the EU General Affairs and External Relations Council, Slovenian Foreign Minister Dr Dimitrij Rupel, chaired the EU-Ukraine Cooperation Council; the Ukrainian delegation was headed by Prime Minister Julia Tymoshenko. The two delegations discussed cooperation between the European Union and Ukraine and exchanged their views on burning political issues.
The current President of the EU General Affairs and External Relations Council, Dr Dimitrij Rupel, welcomed the progress Ukraine has made in the transition towards pluralist democracy. He outlined the importance of the transition process which should be based on the principles of the rule of law and respect for human rights.  Among other important factors, transparent political and economic processes and the freedom of the media were mentioned. Minister Rupel also noted that an appropriate constitutional system with an independent constitutional court should be set up and highlighted the beneficial assistance of the Venice Commission. The Slovenian Foreign Minister, Dr Rupel, stressed in particular the importance of combating corruption and ensuring the independence, impartiality and effectiveness of the judiciary; in this context he expressed concerns about occurrences incited by racism and anti-Semitism.
Minister Rupel also encouraged Ukraine to undertake reforms which would enable the ratification of the Rome Statute of the International Criminal Court and urged the country to ratify the Convention of the Council of Europe for the Protection of Individuals with regard to Automatic Processing of Personal Data. At the meeting, some specific issues were also touched upon, among them energy, nuclear safety, transport, the environment, health, the judiciary, freedom and security; the delegations later initiated talks on the negotiations concerning the new extended agreement between the European Union and Ukraine, discussed in particular, during the meeting, by the representatives of the Secretariat and the Commission.
As regards general political issues, Minister Rupel focused exhaustively on the situation in Kosovo and explained the positions of the European Council on this issue. He also gave an assessment of the recent presidential elections in Russia and the prospects for the development of cooperation between the European Union and Russia.