12.03.2008
Minister Mate on the application of modern technologies in the surveillance of external borders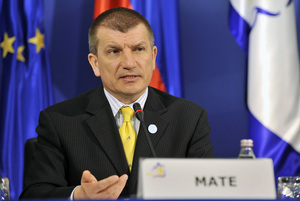 Dragutin Mate, Slovenian Minister of the Interior and President of the Justice and Home Affairs Council, today chaired the Ministerial Conference* on the Challenges of the EU External Border Management at Brdo pri Kranju. At the conference, the ministers also discussed the third Commission Communication on the establishment of the European Border Surveillance System (EUROSUR). Minister Mate emphasised that "this is a decisive step towards the gradual introduction of a common European system for integrated border management. We discussed recommendations for short- and medium-term objectives involving future border control technologies supported by scientific research."
The ministers discussed the three phases that should lead to establishing a system for efficiently fighting illegal immigration and organised crime by 2013. The first phase, aimed at setting up national coordination centres, is already a reality in some Member States. The same is true as regards the application of high technology, such as satellites and unmanned aerial vehicles for border control. The aim of the third phase is to integrate all existing reporting and monitoring systems and create a common information-sharing environment, thus allowing border control authorities to utilise these various systems. Minister Mate said: "The discussion has shown that the Member States support the idea of carrying out a study regarding the key elements of EUROSUR." The latter should include technical recommendations for national coordination centres and national centres for the surveillance of land and maritime borders, as well as systematic solutions for setting up a secured computerised communication network between the national coordination centres and the Frontex Agency. The Member States agreed that Frontex could play a crucial role in the development of EUROSUR by providing technical solutions. "Modern technology should be utilised by experienced agencies to assist them in responding adequately and in a timely manner to unauthorised external border crossings," concluded Minister Mate.
In the last part of the conference, the ministers were joined by the Secretary of Homeland Security, Michael Chertoff, and Attorney General Michael B. Mukasey from the United States. The Secretary of Homeland Security presented the experience and views of the United States regarding border surveillance and management, as well as the related challenges they are facing. He presented the three basic elements of their border surveillance: preliminary acquisition of data from passengers intending to enter the United States, requirement to implement "safe" documents (i.e. biometric documents) and collection of biometric data on arrival in the United States. The Attorney General Michael B. Mukasey emphasised that the operation of agencies in the United States would not be as effective without active cooperation between the European Union Member States and the United States, as the fight against terrorism and international crime is not possible without cooperation and solidarity between countries. According to Minister Mate, the presentation by both American guests "contributed a great deal to the clarification of some unclear points, which is sure to have a positive effect on the discussions we will have tomorrow regarding the Visa Waiver Program and Electronic Travel Authorisation (ETA)."
*The conference is co-financed by the External Borders Fund.