12.03.2008
Presidency Presented the Preparations for the European Council to the European Parliament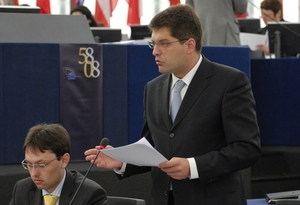 "The Spring European Council will be about delivery. The Presidency would like to advance the work on making Europe the most competitive economy."  In these words, State Secretary for European Affairs Janez Lenarčič summarised the main topics of tomorrow's European Council he was presenting to the European Parliament at its plenary session held today. Following the tradition of spring summits, the meeting is to focus on economic issues. Heads of State and Government of the EU Member States will discuss the Lisbon Strategy, climate change and energy, as well as financial stability. State Secretary Janez Lenarčič pointed out that constructive cooperation with the European Parliament would contribute to the achievement of the set goals.
With regard to the Lisbon Strategy, the European Council is expected to confirm that the renewed strategy works. It will stress the need to focus on implementation and launch the new cycle of the renewed Lisbon Strategy for the 2008-2010 period. The latter provides significant directions and novelties, such as the introduction of the so-called "fifth freedom", the enhancement of the SMEs' competitiveness, and greater attention to the social dimension.
The European Council will also address the challenges of the climate change and energy. "Last year, historic commitments on climate and energy policy were made, this year the focus is on delivery," underlined State Secretary Janez Lenarčič in his presentation. The Heads of State and Government will define the principles and guidelines for the future work on the climate and energy package. They will confirm their commitment to an ambitious response by adopting a conclusion that an agreement on the package is to be reached as early as possible in 2009, in any event before the end of the current European Parliament's term of office.
Further, the European Council will call for a rapid agreement on the third internal market package for gas and electricity. "An effective fully-functioning internal energy market is an essential prerequisite for secure, sustainable and competitive supply of energy in Europe," said State Secretary Lenarčič.
The third major item on the agenda of the coming spring summit will be the exchange of views on the current situation in the global financial markets. The current situation has highlighted the need for further strengthening of the financial stability framework through enhanced prudential supervision and improved tools for financial crisis management. Thus, the European Council is expected to call for action in a number of areas.
State Secretary Janez Lenarčič pointed out the importance of good cooperation and exchange of views with the European Parliament. In view of all the future challenges, the Presidency wishes for genuinely constructive cooperation. "If we make progress together, the European citizens will have the possibility to understand that the EU is here to take care of their future," added Lenarčič.