13.03.2008
Common Press statement of EU and US representatives meeting in Brdo on 13 March 2008*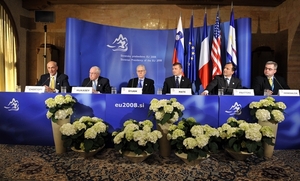 EU and US representatives agreed to pursue discussion on visa waiver issues on the following basis:
Common goal
Their common goal is to achieve secure visa-free travel, in full compliance with applicable laws, between the Member States of the EU and the USA as soon as possible.
Twin Track approach
It was agreed that in the process of concluding Memoranda of Understanding and implementing arrangements concerning the Visa Waiver Programme, a twin track approach would be followed.
Those matters that fall within national responsibilities will be discussed with national authorities while those that fall within EU responsibility will be discussed with EU authorities.
Electronic system for travel authorisation (ESTA)
The USA will share further details with the EU on ESTA implementation. These discussions are to be completed by June 2008. ESTA will be applied consistently in all EU Member States and will be coordinated with the EU's future system.
*The official text of Common Press statement of EU and US representatives meeting in Brdo on 13 March 2008 is written in english.