18.03.2008
Minister Rupel on a three-day Middle East tour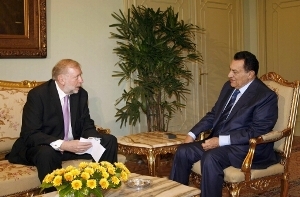 Dimitrij Rupel, President of the EU General Affairs and Foreign Relations Council (GAERC) and Slovenian Foreign Minister, started his Middle East tour today by visiting Cairo. The purpose of the tour, which continues tomorrow in Palestinian territory and concludes on Thursday in Israel, is to collect information on the situation, taking into account the EU's desire to re-invigorate the Middle East Peace Process, which is also one of the topics of the informal meeting of EU Foreign Ministers at Brdo, Slovenia next week. Apart from the Middle East Peace Process, which is the main topic of the present visit, Minister Rupel has also devoted his attention to other issues relevant for the region, especially the situation in Lebanon.
In his meetings with Egyptian President Hosni Mubarak and Foreign Minister Ahmed Aboul Gheit, Minister Rupel highlighted the EU's efforts to strengthen the Israeli-Palestinian dialogue in the spirit of the Annapolis Agreement. One of the more specific topics addressed was the severe humanitarian situation in Gaza, and Minister Rupel expressed his expectation that the Rafah crossing point would be reopened as soon as possible.
The GAERC President also discussed these topics with the Secretary General of the Arab League, Amr Moussa, who informed his guest of the preparations for the Arab League Summit in Damascus. Minister Rupel and Secretary General Moussa exchanged views on the Middle East Peace Process and discussed the situation in Lebanon.