25.03.2008
Informal Meeting of Foreign Ministers (Gymnich) - Announcement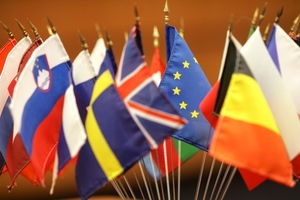 On Friday 28 and Saturday 29 March, the Informal Meeting of EU Foreign Ministers – the Gymnich – will convene at the Brdo Congress Centre, chaired by the current President of the General Affairs and External Relations Council, the Slovenian Minister for Foreign Affairs, Dr Dimitrij Rupel.
The meeting will open with an in-depth discussion on the Middle East, in which the Ministers will examine the Middle East peace process and the situation in Lebanon, the role of Syria, Iran and the activities of terrorist organisations. Dr Rupel will launch the debate with a report on his visit to the region between 17 and 20 March.
The discussion on Friday will include the subject of relations between the European Union and the Russian Federation. The Slovenian Presidency is preparing the EU-Russia Summit to take place in Russia in June. Discussions will therefore cover the preparations for that summit, an assessment of the situation after the recent presidential elections in Russia and mutual cooperation in general.
Saturday's talks will be devoted to the Slovenian Presidency's efforts to consolidate peace and stability in the Western Balkans and to revive the Thessaloniki Agenda with which, in 2003, the European Union had assured all the Western Balkans countries of a future in Europe, i.e. EU membership, subject to fulfilling the necessary conditions. Ministers or representatives of the States from the region will also participate in this session.
The meeting will conclude with a lunch, at which the main topic will be intercultural dialogue, one of the Slovenian Presidency's priorities in 2008, the year the European Union has designated the Year of Intercultural Dialogue. Particularly in an area in which people of different nationalities, cultures and religions live together, the European Union should promote dialogue with a view to establishing diversity as a shared value. As has become traditional, this session will be attended by the Foreign Ministers of the EU candidate countries.
Dr Rupel will present the subject matter of the Informal Meeting of EU Foreign Ministers in further detail at the press conference on Wednesday 26 March at the Ministry of Foreign Affairs.