07.05.2008
e-Health for greater patient involvement and better quality healthcare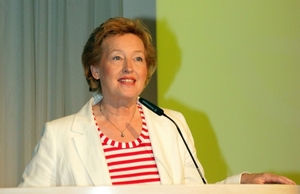 Today in Portorož, the two-day 2008 e-Health conference 'e-Health Without Frontiers', organised under the Slovenian EU Council Presidency by the Ministry of Health of the Republic of Slovenia in cooperation with the European Commission, concluded with confirmation of the Portorož Declaration. As the basis for future work by the EU and its Member States in the field of e-health, the Declaration will contribute to improving the quality of health and social care for over 500 million Europeans. In the Declaration, the Member States and the European Commission undertake to develop advanced information services in the health and social care sectors.
In her address, the Minister of Health of the Republic of Slovenia, Zofija Mazej Kukovič, stressed that healthcare management supported by information technology meant greater patient involvement and more effective healthcare providers. The use of tools offered by the internet, mobile telephony and television are changing the role of the patient, who can now be more actively involved in the treatment process. Telemedicine, or the delivery of medicine at a distance, enables us to eliminate all manner of boundaries and thus boost the quality of healthcare.
At the conference, experts from 38 countries also presented examples of good practice from the e-health field and highlighted initiatives which could deal with the main health challenges we face in the next ten-year period. The need to plan the use of telemedicine and innovative information and communication tools in the treatment of chronic disease was stressed. At the end of 2008, the Commission intends to publish a report on this topic, enabling Member States to recognise and resolve potential obstacles in the more widespread use of telemedicine and to coordinate their efforts.
Furthermore, the Member States must focus more closely on the new research opportunities in future. In addition, the conference pointed out the need for a transparent legal framework. This would help determine the responsibilities, rights and obligations of all those involved in the e-health process, such as national authorities, healthcare professionals, patients, insurance companies and other relevant actors.
Slovenia was represented at the conference in the form of eight lectures and an exhibition area presenting Slovenia principal achievements in the field of e-health. The pilot projects on the monitoring and treatment of chronic lung disease, the e-depression project, and the partly-implemented e-birth and telemedicine projects were presented.