08.05.2008
Information on the 5th Summit between the European Union and Latin America and the Caribbean, 16 May 2008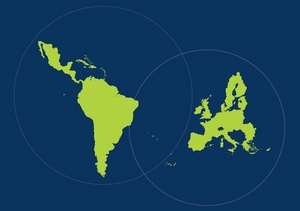 The 5th European Union-Latin America and the Caribbean (EU-LAC) Summit will be organised in Lima, the capital of Peru, on 16 and 17 May 2008.The EU-LAC Summit is one of the major events during the Slovenian Presidency and will be attended by representatives from 60 countries.The summit will be co-chaired by the Prime Minister of the Republic of Slovenia and President of the European Council, Janez Janša, and by the president of Peru, Alan García.
The aim of the summit is to strengthen the strategic partnership between the regions based on mutual respect and trust, as well as on shared values, economic, political, cultural, historical and, last but not least, on human bonds.
In this light Slovenia and the EU strive to make progress in strengthening the economic cooperation between the regions.The summit has two focuses, namely poverty, inequality and inclusion, and sustainable development:environment, climate change, energy.These focuses cover the most crucial global challenges at the moment, concerning not only the two regions but the whole world.The aim of the summit is therefore to strengthen the bilateral cooperation between the regions in the mentioned fields, and thus to overcome obstacles for the future development of both regions.
In this respect, Slovenia stresses the importance of cooperation in the field of primary and vocational education, which is of key importance for achieving higher levels of economic growth, competitiveness, employment and reduction of poverty.
On 17 May there will be meetings (the so-called mini-summits) of the EU Troika chaired by the Slovenian Prime Minister with the representatives of individual sub-regional groups (Mercosur, Andean Community, Central America, Cariforum), Chile and Mexico.
A day before the summit, on 15 May, there will be a session of foreign ministers of the EU and LAC countries discussing four of the key topics marking the relations between the EU and LAC and their cooperation.These are migration, intercultural dialogue, regional integration and drugs.