13.05.2008
Slovenian Foreign Minister Dimitrij Rupel receives the President of the European Parliament, Hans-Gert Pöttering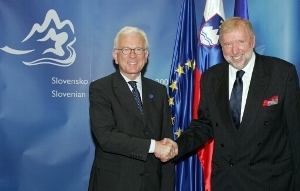 Dr Dimitrij Rupel, Slovenian Minister of Foreign Affairs, received the President of the European Parliament, Mr Hans-Gert Pöttering, who attended the conference entitled "New Paradigms, New Models – Culture in the EU External Relations" organised by the Ministry of Foreign Affairs of the Republic of Slovenia. Dr Rupel and Mr Pöttering touched on the situation in the Western Balkans and developments in Georgia, and the EU's role in resolving both issues.
On the situation in the Western Balkans, Dr Rupel said that the victory of pro-European forces in the parliamentary elections in Serbia is of crucial importance for the stability and further economic development of the region. Minister Rupel noted: "We are satisfied that the efforts of the European Union and the current EU Council Presidency holder in encouraging Serbia's European future, including the signing of the Stabilisation and Association Agreement at the end of April, were confirmed by Serbian voters." In this connection Dr Rupel emphasised that the Kosovo issue remains a challenge for the security and stability of the entire Western Balkan region.
Minister Rupel also acquainted President Pöttering with his recent visit to Georgia. The main purpose of the visit of Dr Rupel and ministers of foreign affairs of certain EU Member States was to become informed on the latest developments in the country, which the ministers of foreign affairs of the EU Member States discussed at the meeting of the EU General Affairs and External Relations Council held at the end of April in Luxembourg. On 18 April, the Slovenian EU Council Presidency expressed its concern regarding developments in Georgia and confirmed its support of the territorial integrity of Georgia. The European Union condemns all activities that increase tensions in the region and supports all international incentives for resolving frozen conflicts. At its meeting in Luxembourg, the General Affairs and External Relations Council agreed with the proposal that the Presidency, possibly also in the composition of the EU Troika, should visit Georgia as soon as possible. On 7 May, on the margins of the Council of Europe Committee of Ministers meeting, Dr Rupel also met Georgian Vice Prime Minister Giorgi Baramidze.