13.05.2008
Extraordinary GAERC meets to discuss humanitarian situation in Burma/Myanmar and China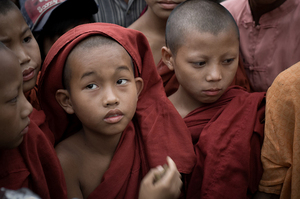 EU development ministers met today in an extraordinary General Affairs and External Relations Council meeting in order to assess the state of play regarding the humanitarian situation in Burma/Myanmar after the devastation caused by the cyclone Nargis, and review the response of the EU member states and the European Commission. They also discussed the tragic earthquake that shook China's Szechuan province on Monday.
The Council, chaired by Slovenian State Secretary Andrej Šter, today repeated its expression of sympathy with the people of Burma/Myanmar, especially the families of the victims of the deadly cyclone.
The ministers stressed that the scope of the tragedy could increase without the co-operation of the authorities in Burma/Myanmar. They welcomed some limited improvement that has been made recently in this respect, but stressed that more needs to be done to ensure a free access to the affected area to the international humanitarian experts, including the expeditious delivery of visa and travel permits.
The Council also called on the Burma/Myanmar authorities to take urgent action to facilitate the flow of aid to people in desperate need who should benefit in full from the relief offered by the international community.
"What is important is to ensure - with the consent of the Burma/Myanmar authorities - that the aid reaches those who need it," said State Secretary Šter.
The EU ministers expressed their support to any initiative, including in the UN bodies, which would help to meet the humanitarian needs of the Burmese people.
State Secretary Šter said that today's debate on the EU humanitarian response focused on finding ways on how to channel the collected aid to those who need it the most. The Council welcomed the contributions that the Commission, Member States and individual citizens have made to the relief efforts, and expressed EU's readiness to provide additional assistance to meet the massive needs of the people, especially children.
They recalled that the EU Humanitarian Aid is entirely neutral, impartial and independent, in accordance with the EU Consensus on Humanitarian Aid.
The ministers also welcomed the initiative of the Commissioner for Development and Humanitarian Aid Louis Michel to travel to Burma/Myanmar for purely humanitarian purposes.
Another subject of debate at today's extraordinary GAERC meeting was Monday's devastating earthquake in China. The Council expressed its deepest condolences to the people of China for the massive loss of life and devastation caused by the earthquake which struck the country.
The Ministers noted China's readiness to welcome foreign assistance, and expressed the European Union's readiness to provide it as soon as conditions on the ground permit it.