14.05.2008
State Secretary Zvonko Zinrajh addresses Inaugural Conference of European Organisation for Security (EOS)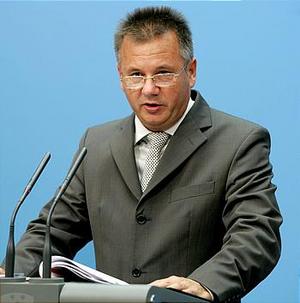 Zvonko Zinrajh, State Secretary at the Slovenian Ministry of the Interior, was one of the key speakers at the inaugural conference of the European Organisation for Security in Brussels today. He expressed support for the establishment of the EOS and presented his vision of progress in the implementation of European security measures within the framework of the new Treaty. "The fight against modern forms of organised crime and terrorism demands intensified cooperation between Member States. Cooperation between public and private sectors is also on the increase, since modern technologies developed by the private sector will be greatly needed in the future," said Mr Zinrajh.
The EOS was launched as a result of European private sector initiatives. Mr Zinrajh expressed support for the EOS's ambitious goals, such as the development of a more coherent and thus more functional European security market, which had, until now, been fragmented into national and European levels. Equally important are the EOS's future activities, including the promotion of innovation and closer cooperation between Europe's public and private sectors and the inclusion of private security instruments.
Tomorrow, at the invitation of the European Parliament's Group of the European People's Party and European Democrats (EPP-ED), Mr Zinrajh will take part in a conference on home affairs policy at the European Parliament Committee on Civil Liberties, Justice and Home Affairs (LIBE). The conference participants will include leading home affairs experts, senior representatives of Member States and international organisations and members of national parliaments belonging to the above political group. In his address, Mr Zinrajh will speak about the influence of European home affairs policy on the process of European integration.