15.05.2008
Territorial Cohesion and Urban Development Directors-General conclude two-day meeting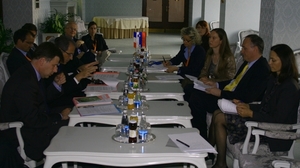 The EU's Directors-General responsible for territorial cohesion and urban development today concluded a two-day meeting at Brdo pri Kranju. 
On the first day of the meeting, the Directors-General competent for Territorial Cohesion discussed the interim report on the implementation of the First Action Programme for the implementation of the Territorial Agenda of the European Union and exchanged views about the future of the territorial cohesion process. On the second day, the Directors-General responsible for urban development took note of the report on the state of implementation of the Leipzig Charter on Sustainable European Cities.
With regard to the response to the Green Paper 'Adapting to Climate Change in Europe – Options for EU Action' and in accordance with the priority topics of the Slovenian EU Presidency, the Slovenian Presidency encouraged a discussion on the role and contribution of urban planning in dealing with the challenges of climate changes and the promotion of greater energy efficiency. The meeting also focused on the priority topics and envisaged activities in the field of territorial cohesion and urban development during the French and Czech Presidencies. Slovenia underlines the importance of a comprehensive approach to tackling present-day problems and challenges by incorporating the urban and land planning considerations when framing sectoral policies. It has strong experience in this respect, particularly from the integral planning of the development of coast and hinterland under the international CAMP project.
The conclusions of the meeting will be included in the final Slovenian Presidency Report.
On the margins of the meeting of the Directors-General on Territorial Cohesion and Urban Development, the Slovenian Minister for the Environment and Spatial Planning, Mr Janez Podobnik and the French Secretary of State for Spatial Planning, Mr Hubert Falco, met on 14 May in Bled. At the meeting, the main activities carried out in the field of territorial cohesion and urban development during the Slovenian Presidency were outlined and priority topics and activities envisaged during the French Presidency presented.  Mr Podobnik stressed the importance of incorporating territorial cohesion into the new Lisbon Treaty. This, he maintained, represented a step forward in the process of adopting a comprehensive approach to framing policy at EU as well as national level.
The Slovenian Minister and the French Secretary of State also exchanged views on the Green Paper on territorial cohesion being prepared by the European Commission, which is likely to be adopted during the French Presidency. Mr Podobnik and Mr Falco assessed the work and the cooperation between the countries as very successful and agreed on continued mutual cooperation and support.