16.05.2008
Foreign Ministers Reach an Agreement on Final Declaration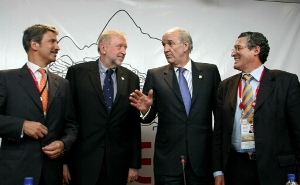 "The final and most important document of the Summit is the Lima Declaration. It is my great pleasure to announce that the Foreign Ministers have agreed to forward it to their respective Prime Ministers and Presidents for its final adoption," the President of the General Affairs and External Relations Council and Slovene Foreign Minister Dimitrij Rupel announced after the Foreign Ministers' meeting.
Minister Rupel continued, "Our two regions have made a giant leap forward regarding cooperation and mutual relations in the nine years since the EU and LAC established the Strategic Partnership at the Rio de Janeiro Summit in 1999."
In the two years from the Summit in Vienna to the Summit in Lima, twelve preparatory events were organized and a great number of bio-regional activities and programmes were initiated. These have enabled both continents to reap the benefits of the strategic partnership. The discussions at this 5th Summit  have concentrated on promoting actions to address two key interrelated challenges:
Poverty, inequality, and the need for more inclusive societies; and
Sustainable development, the environment, climate change, and energy.
In the Declaration sixty countries of the two regions have pledged to cooperate on the eradication of poverty, inequality, and exclusion and to fight climate change in order to preserve planet Earth. The two regions aim to achieve equitable and inclusive levels of social development through the formulation and implementation of more effective social policies.
Minister Dimitrij Rupel stressed: "The two regions offer immense potential for our people. It is up to all of us - governments, as well as business and civil society - to work together to respond to these challenges and to make the most of the wealth of opportunity our strategic cooperation has to offer."
The President of the General Affairs and External Relations Council emphasised that "We will continue to actively pursue the negotiations of Association Agreements as common strategic objectives with a very high political priority."
The Slovenian EU Presidency was very pleased to be able to co-chair the 5th EU-LAC Summit together with the generous Peruvian hosts. "I would like to thank my colleague and friend, Minister Belaunde, for his tireless work and fruitful cooperation as well as the Peruvian people for their warm welcome and hospitality," stated Minister Rupel in expressing his gratitude at the press conference.