22.05.2008
EU Troika-Ukraine meeting discusses topical regional and international affairs and strengthening EU-Ukraine relations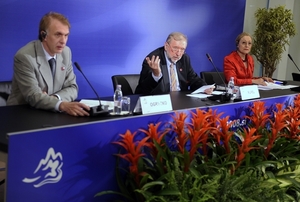 Regional and international issues, conditions within Ukraine, negotiations on a New Enhanced Agreement between the EU and Ukraine and cooperation in the fields of the EU common foreign and security policy were the main subjects discussed at the EU Troika's meeting with Ukraine. The meeting was chaired by the President of the EU General Affairs and External Relations Council, Slovenian Foreign Minister Dimitrij Rupel. It was also attended, for the European side, by EU Commissioner for External Relations and European Neighbourhood Policy Benita Ferrero-Waldner, Helga Schmid, representing the General Secretariat of the Council of the EU, and Jacques Faure, representing the next EU Presidency country, France. The Ukrainian delegation was headed by the Minister of Foreign Affairs, Volodymyr Ogryzko.
Discussions on international issues covered cooperation with Russia, evaluation of the course of the elections in Georgia and the situation in the Trans-Dniester region.
In the debate on international and regional issues, the President of the General Affairs and External Relations Council, Slovenian Minister of Foreign Affairs Dimitrij Rupel presented the situation in the Western Balkans and the prospect of a future in Europe for the countries of the region, a prospect that needed to be brought home to the region's population, enabling them to appreciate the real advantages of European integration. The elections that had been held in Serbia on 11 May could also be viewed as a moment of decision for or against the 'European perspective'. The Slovenian EU Presidency had been delighted to hear of the convincing victory of the pro-European side. Dr Rupel also outlined the situation in Kosovo and the activities of the EULEX mission. The Ukrainian Foreign Minister, Mr Ogryzko, presented the situation and relations in the wider region.
In connection with Ukrainian home affairs, Dr Rupel congratulated Mr Ogryzko on Ukraine's joining the World Trade Organisation, thereby placing it in a new operational framework which would improve its opportunities for action at the global level. The extent to which Ukraine exploited these opportunities would, however, he emphasised, depend on the country's capacities. He also stressed that, for sustainable growth, political measures and reforms are needed, particularly in the judicial field. Dr Rupel also informed the Ukrainians about the process of ratification of the Lisbon Treaty and the subject matter of the next European Council meeting, to be held on 19 and 20 June in Brussels.
On strengthening relations between the EU and Ukraine, Dr Rupel expressed satisfaction with the progress made to date in negotiations on the New Enhanced Agreement. The Presidency is convinced that the Agreement will provide a comprehensive and well-functioning framework for strengthening mutual relations. What progress has been made will be reviewed by the EU and Ukrainian Heads of State at the forthcoming EU-Ukraine Summit. Dr Rupel observed that the European Union appreciated Ukraine's pro-European orientation. It is also aware of Ukraine's objectives associated with the new Agreement.