26.05.2008
First meeting of the EU-Russia Permanent Partnership Council on Research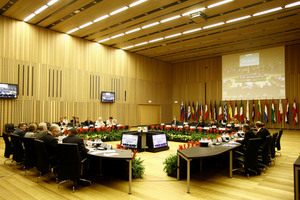 The President of the EU Council on Competitiveness, Slovenian Minister for Higher Education, Science and Technology Mojca Kucler Dolinar, hosted the first meeting between the EU ministerial Troika and Russia on research. This is one of the four common areas of cooperation between the European Union and the Russian Federation, while the meeting was also devoted to preparation of the Russia-EU Summit to be held in June.
The meeting was attended by the Russian Delegation, led by Minister of Education and Science Andrei Fursenko, and by Commissioner Janez Potočnik, responsible for research and technological development, and Pierre Legueltel of the incoming French EU Council Presidency.
In the first part of the meeting, they discussed cooperation and implementation of the Russia-EU Agreement on scientific and technological cooperation. Both parties expressed their satisfaction with the efforts and the up-to date achievements for development of a knowledge-based society, promotion of competitiveness and sustainable economic growth, and a joint response to global challenges. According to the number of the projects honoured and resources gained for these projects, Russia was the most successful third-country partner in the 6th Framework Programme for Research and Technological Development.
The scope of the EU-Russia research cooperation has been very comprehensive, ranging from space, aeronautics, renewable energy sources and nuclear fission energy research to quality food, safety and climate change. On behalf of the presidency, Minister Kucler Dolinar pinpointed the fact that the current agreement on scientific and technological cooperation will expire in February 2009 and it should be renewed.
In the second part of the EU-Russia meeting, the heads of delegations discussed Russia's incentive to join the 7th Framework Programme. In this regard, Minister Kucler Dolinar noted that the association of Russia with the 7th Framework Programme, together with Russia's participation in the Bologna Process, would be a next step towards further enhancement of the Common Space of Research and Education, and would contribute to its full realisation. A more intensive integration of the Russian scientific community into the European Research Area would result in greater similarity and complementarity between the Russian and EU research systems, in particular regarding their orientation toward excellence, balance between cooperation and competitiveness, emphasis placed on competitiveness and sustainability, and readiness to respond to global challenges such as climate change and public health.
At the conclusion of the meeting, the EU and Russia adopted a joint statement