26.05.2008
EU General Affairs and External Relations Council welcomes study on children in armed conflicts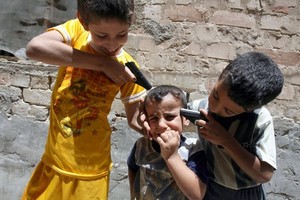 Within the European Security and Defence Policy, the EU General Affairs and External Relations Council today welcomed a study on children in armed conflicts. In this context, the President of the EU General Affairs and External Relations Council, Slovenian Foreign Minister Dimitrij Rupel, underlined the general importance of this subject. "It is not only that children are the most vulnerable group or that their tragic destiny most affects our conscience; these very children, our future generations, are also our greatest hope for peace, stability and development," said Dr Rupel. The Slovenian Presidency thus has devoted special attention to the further development of instruments in the area of development policy, human rights and crisis management, as well as to the mutual and complementary use of these instruments by strengthening "inter-pillar" cooperation.
In the development area, the study of the European Centre for Development Policy Management highlights the complexity of this issue and contains concrete proposals for future action.
As regards human rights, efforts are directed toward updating the EU Guidelines on Children and Armed Conflict; in addition, national strategies for EU activities in six new priority countries are being prepared.
In the area of crisis management, an attempt was made to round off the efforts undertaken by amending the Checklist for the Integration of the Protection of Children Affected by Armed Conflict into ESDP Operations and by a conference organised in cooperation with non-governmental organisations, which was devoted to overall implementation and field action. The European Commission also underlined the special role of children in external relations.
"The situation in Congo and the recent escalation in Sudan, to mention only a few examples, clearly indicate that children in armed conflicts are a problem which exists here and now. And the problem concerns regions where the European Union is engaged, both politically and operationally. Our efforts must, therefore, continue. This is a complex issue which requires a long-term vision and tangible efforts. To the benefit of children, our discussions must be supported by real action," stressed the Slovenian Foreign Minister.