27.05.2008
A future in Europe - the only positive alternative for the Western Balkans, says Slovenian Premier Janez Janša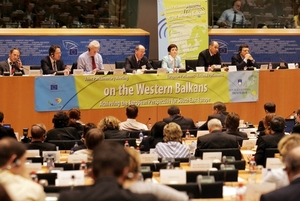 The Prime Minister of the Republic of Slovenia and current President of the European Council, Janez Janša, today attended the Joint Parliamentary Meeting in Brussels, with delegations invited from the national parliaments of all the European Union Member States, as well as the presidents of the parliaments of all the Western Balkan countries and Turkey. The meeting focused on the 'European perspective' for the Western Balkans and on the key challenges ahead for the region.
In his address, the Slovenian Prime Minister stressed that the Western Balkans was the central focus of EU enlargement policy and, as such, constituted an inevitable chapter in any serious debate on the future of Europe. "Never before has the European Union so clearly seen its common future in the global context, beyond Europe's borders. In this respect, the present-day generation of Europeans has a historic opportunity to prepare Europe for its role as a global player. We will be able to fully seize this opportunity only if we discharge our historical responsibility to conclude our project here, in Europe," he emphasised.
According to the Slovenian Prime Minister, EU enlargement to the Western Balkan countries and definition of the European Neighbourhood Policy will be instrumental in the European Union's successful response to three key challenges: peace and stability, combating climate change, and the fight against poverty.
On the margins of the meeting, European Council President Janez Janša observed that, in terms of bringing the Western Balkan region closer to the European Union, Slovenia had done its utmost. The conclusion of the network of Stabilisation and Association Agreements with all the Western Balkan countries will ultimately and irreversibly link the region to Europe since these agreements constitute a positive answer to the question of whether it is possible to achieve greater stability in the region. Mr Janša also pointed out that the continued movement of the Western Balkan countries closer to the European Union this year coincided with one of the fundamental political processes in the European Union – ratification of the Lisbon Reform Treaty. "Although this is not much talked about, the process of further enlargement largely depends on whether Europe will manage to obtain an external framework for further enlargement, for further enhancing its role and for answers to future global challenges."