29.05.2008
23rd Conference of Directors of EU Paying Agencies Starts Today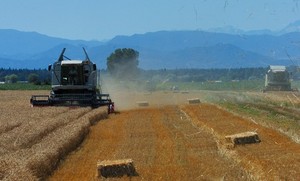 The 23rd in the series of Conferences of Directors of EU Paying Agencies is this year being organised for the first time in Slovenia by the Slovenian Agency of Agricultural Markets and Rural Development.The main aim of the conference is sharing EU Member States' opinions and experience in the implementation of the common agricultural policy (CAP).
The conference in Slovenia is being attended by more than 150 participants; traditionally the Directors of the Member State paying agencies and their closest co-workers participate, along with representatives of the European Commission, the Court of Auditors of the European Communities, and candidate country paying agencies.
The main themes of the conference are the new Commission guidelines for the certification of paying agencies(in particularthestatement of reliability signedby the paying agency's director, accreditation guidelines and revision strategy), topical case law in the field of common agricultural policy and the experience of Member States in actions before the Court of Justiceof the European Communities, paying agencies' expenditure on controls and the system of electronic applications for agricultural subsidies in Slovenia.The conference is also aimed at looking for common solutions that will make control systems cheaper and simpler and will relieve the burden on beneficiaries in the process of obtaining of funds for the deployment of CAP measures.
A plenary session was held this morning in the Grand Hotel Union, to be followed in the afternoon by workshops on the certification of paying agencies and on topical case law in the field of common agricultural policy. Tomorrow, the conclusions of the conference will be presented at the Congress Centre in Brdo pri Kranju.As part of the workshop on the certification of paying agencies, a meeting of the Commission's expert team for this area has been planned. This has not been customary to date and is a step forward in the organisation of such conferences.
The Agency wishes to present Slovenia to the visitors (many of whom are visiting the country for the first time) as a land that has many pleasant experiences to offer. The guests will therefore be able to enjoy a lecture at the Biotechnical Faculty on the value of buckwheat, a sightseeing visit to the city of Ljubljana, a visit to Bled island and the castle, and tasting of Slovenian wines and cuisine.