29.05.2008
Slovenian Foreign Minister Rupel addresses International Conference on Iraq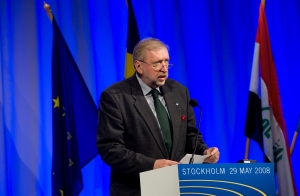 EU General Affairs and External Relations Council President, Slovenian Foreign Minister Dimitrij Rupel attended the international Iraq Compact Annual Review Conference organised in Stockholm. The conference follows an initiative of the Iraqi Government and the international community (proposed last year by Iraq's Prime Minister Nouri al-Malki and UN Secretary-General Ban Ki-moon) to establish a partnership whose basic role is to provide a framework for the economic reorganisation of Iraq and to speed up its incorporation into the regional and global economy. The International Compact with Iraq (ICI) is based on three pillars: politics, security and the economy.
The participants at the Stockholm conference included the Prime Minister of Iraq, Nouri al-Malki, the Secretary-General of the United Nations, Ban Ki-moon, the Secretary-General of the Arab League, Amr Moussa, and the EU High Representative for the Common Foreign and Security Policy, Javier Solana.
At the press conference, the Slovenian Foreign Minister presented the European Union position coordinated with all the Member States. The European Union confirmed its support for the initiative and for the report on the first year of its operation, emphasising that the involvement of the international community - including Iraq's neighbours - is vital if the set objectives are to be achieved and balanced development promoted. The EU supports the Iraqi Government's priorities including national reconciliation, bolstering the economy and enhancing security, but points out the need to focus on human rights, especially as regards weaker segments of the population. "Increased concern for human rights is of crucial importance with a view to achieving reconciliation between communities within Iraq and improving security in the country," stressed Dr Rupel and also pointed out the issue of refugees in Iraq as well as Iraqi refugees in neighbouring countries. The EU will continue its partnership and close cooperation with Iraq; it offers the Iraqi authorities expert assistance in pursuing the political process and economic reconstruction. Dr Rupel also pointed out that the EU has granted Iraq €829 million for reconstruction and humanitarian aid since 2003.