30.05.2008
Minister Bajuk: "Adoption of the euro inflicted a breath of normality in our economic environment and economic agents tend to respond positively to predictable circumstances"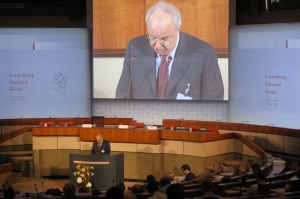 Dr Andrej Bajuk, the Slovenian Minister of Finance and President of the Economic and Financial Council (ECOFIN), today presented Slovenia's experience of the adoption of the single European currency at the 3rd Luxembourg Financial Forum and by way of introduction emphasised, "Slovenia opted for a quick adoption of the euro. Our first programme was drafted as early as November 2003, even before Slovenia's accession to the European Union."
According to Dr Bajuk, the main reasons for such a decision were:
Slovenia has a small and open economy, with exports accounting for around 70% of GDP;
about two-thirds of exports go to the euro area, and the same proportion applies to imports;
most importantly, we form an optimal currency area with the euro zone since as our business cycles are synchronised; we have a similar economic structure and do not experience asymmetric shocks to the economy.
He went on to say, "Although the Slovenian tolar was a very good currency and helped stabilise the Slovenian economy in the crucial transition years, in the end we opted for an even better one, for precisely the reasons outlined above. To adopt the euro rapidly, Slovenia was required to fulfil the economic conditions, i.e. the Maastricht criteria, and to complete all the practical preparations. On the economics front, Slovenia joined the ERM II mechanism two months after EU accession and at the same time, tightened its fiscal policy to gradually bring down the public deficit, while inflation proved the most demanding of the economic criteria to fulfil. Practical preparations were meticulous and their implementation successful, which was confirmed by the public opinion analyses: 95% of Slovenia's population estimated that the euro changeover was successful and 92% felt well-informed."
Dr Bajuk continued by pointing out the consequences and lessons of the euro adoption in Slovenia. In terms of the advantages, he emphasised the fact that Slovenia had recorded a GDP growth rate of 5.7% in 2006, while the growth rate for 2007 was even higher, at 6.1%. "These are the most impressive results after 1999 and I have no reason not to believe that monetary integration favourably influenced the economic activity," noted Dr Bajuk. On the other hand, he pointed out the inflationary pressures Slovenia had experienced post adoption. Average 12 month inflation in 2007 stood at 3.6%, which was higher that expected, yet the EU as a whole experienced higher-than-expected inflation last year. The main causes of inflation in 2007 were increases in the prices of food and oil. In Slovenia, these two items accounted for close to 80% of the total annual inflation, while the introduction of the euro is estimated to have contributed 0.3 percentage points.
There can be little doubt that the difference in price increases in Slovenia and the euro area average is a result of Slovenia's convergence with the more developed member states. This is reflected in the economic growth that is twice as high in Slovenia as the average of the euro area.
In concluding his speech, Dr Bajuk also mentioned an important anniversary celebrated this year: "This year, the European Monetary Union (EMU) and the European Central Bank (ECB) are celebrating their 10th anniversary. This event is a good opportunity to assess the achievements and reflect on its future functioning. EMU has played a key role in accelerating economic integration in Europe and making euro area countries more resilient to shocks. Macro-economic stability has improved markedly, and the euro has become one of the leading global currencies. However, euro area member states need to continue to adapt their economies and to further increase their capacity to adjust to shocks with a view to increasing their competitiveness. Further enlargement of the euro area will increase the benefits of the single currency and such a policy certainly has Slovenia's full support."