20.02.2008
Discussion on 23rd Annual Report from the Commission on "Monitoring the Application of Community Law" – statement by State Secretary for European Affairs Janez Lenarčič on behalf of the EU Council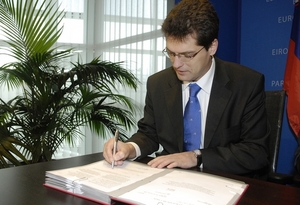 Dear Members of the European Parliament,
The Council of the EU welcomes the report by Ms Frassoni, Member of the European Parliament, on 23rd Annual Report from the Commission on "Monitoring the Application of Community Law" and the announcement of additional analysis foreseen in the Communication from the Commission "A Europe of Results – Applying Community Law". This report from the European Parliament represents an extremely valuable (helpful) contribution to our common aim of providing timely and correct application of the Community law.
The Council also salutes the key message of Ms Frassoni's report: it is the effectiveness of EU policies that ensures positive effects of Community legislation on the daily lives of European citizens, whereas compliance with Community legislation by the Member States must be controlled and monitored in particular.
The Presidency considers as positive that the European Parliament strives to encourage the sharing of best practices between the Member States. We believe that such sharing could substantially contribute to a more effective and uniform application of Community law.
However, I would like to point out that the Presidency cannot comment on the majority of issues and suggestions presented in the report. In principle, the responsibility for administrative application of Community legislation lies with the Member States, in accordance with their constitutional requirements, and with the Commission which exercises its function as guardian of the Treaties by monitoring the uniform application of Community law.
Thank you.