31.03.2008
Address by Zmago Skobir, President of the Aerodrom Ljubljana Management Board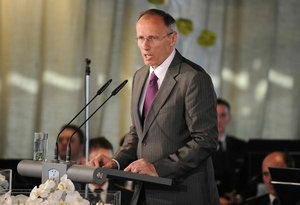 Check against delivery
Distinguished guests,
Standing here last July, when the first phase of the passenger terminal was being opened, I could not possibly have imagined that, in less than a year, I would have a further opportunity to address you on the occasion of another major event at Ljubljana Jože Pučnik Airport.
2007 was a successful year for the aviation industry and doubly so for Aerodrom Ljubljana, the operator of Ljubljana Jože Pučnik Airport. We handled a record volume of passengers and cargo and succeeded in completing the first phase of the new terminal construction. The construction of the first phase of the passenger terminal was also required in order to ensure and organise passenger flows in accordance with the Schengen rules. As of today, Slovenia is a full participant in the European Union's single domestic market and the common area shared by the Schengen signatories in all respects, both market- and administration-related. This represents an important step forward for us, since air passengers are increasingly demanding and critical when they face complex administrative and security procedures at airports. With the elimination of border controls on internal flights, we, the residents of the Schengen States, have today become more closely connected and more easily accessible. I am convinced that entry into the Schengen area will also have a favourable impact on business in Slovenia. Joining the European Union, adopting the euro and eliminating border controls at the internal borders have given us a great opportunity to considerably speed up the increase in the number of passengers carried and the volume of cargo handled.
However, our ambitious plans do not stop here. I hope the foundations for the construction of a completely new, modern 32 000 m2 passenger terminal will be laid as early as this year. Our mission is to open up space for new destinations, new adventures, jobs and for the future. Our vision, indeed, is in the next few years to become in every respect the leading airport in a region with a population of four million people that goes beyond the borders of Slovenia.
And now, it is my great honour to invite the Prime Minister of the Republic of Slovenia and the current President of the European Council, Mr Janez Janša, to take the floor as keynote speaker on this auspicious occasion.