31.03.2008
Speech by Portuguese Minister of the Interior Rui Pereira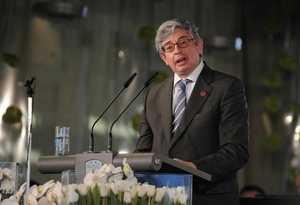 Check against delivery!
I would like to thank Prime Minister Janez Janša and my dear colleague and friend Dragutin Mate for the kind invitation to be present at this celebration. It is a great pleasure for me to be here today, celebrating the conclusion of a process that enables nine EU Member States – the Czech Republic, Estonia, Hungary, Latvia, Lithuania, Malta, Poland, Slovakia and Slovenia – to lift the control of their air borders.
On 21 December 2007, thanks to our common efforts, it became possible to celebrate the historic moment of lifting the land and sea borders, in an emotional environment that strongly signalled the end of border controls and dividing lines inside the EU. The role our two countries played in this process was crucial. Now, as scheduled, it is time to abolish controls at the air borders.
This means that European citizens can now move freely within a 3,600,000 km2 area. It is a remarkable event for the thousands of people who will experience a border-free Europe from Lisbon to Tallinn, no longer subject to border checks, in a space of common values without barriers.
Freedom of movement has been expanded, but security has also been strengthened, since all Member States will comply with the demanding Schengen requirements and will be managing the common external borders. It was particularly gratifying for me to be involved in this effort and to ensure that the Portuguese project "SISone4ALL" would lead to successful reunification of the European continent.
The realisation of SISone4ALL and the process of Schengen evaluation that enabled the decision to lift border controls was a difficult challenge. I am convinced that we have accomplished this with success, because all Schengen countries were deeply engaged in this common effort.
I want to emphasise the real commitment and close cooperation of all Member States involved in order to fulfil the vast criteria and technical requirements necessary to meet the Schengen conditions. It would be unfair not to make specific reference to the role Slovenia played among the new Member States, in the trio presidency context, which also involved Portugal and Germany.  In the end, this process has enabled Europe to have more freedom, as well as greater security, as more Member States now apply the Schengen acquis and have access to the Schengen Information System.
We can now reaffirm that the system is fully functioning, and these past three months have proved that the Schengen enlargement combines greater mobility and easier contacts between EU citizens with enhanced security at the external borders. The opening of the air borders today increases each Member State's responsibility for European security, but I am certain that, as in December, the Member States will swiftly respond to these new challenges and responsibilities.
The recent months have proved that the risks and fears alluded to prior to the abolition of land and sea borders were unfounded. There is no evidence thus far of a rise in either illegal immigration or crime since the EU Schengen zone was enlarged on 21 December.
Indeed, the tremendous efforts made by all Member States have proved to be highly effective. Governments have seriously taken up the common responsibility not only to ensure the free movement of people, which is expected to boost business and tourism, but also to ensure a safer external border. We can today say that the EU is safer, and together we can better reinforce our security and the fight against organised crime.
We can also proclaim that today Europe has fully achieved its historic task of granting freedom of movement, security and democracy across the continent.