16.04.2008
Dragutin Mate, President of the Justice and Home Affairs Council, with Czech Interior Minister Ivan Langer on Europol and visa waiver negotiations with the USA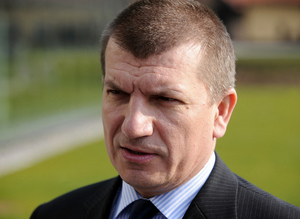 Dragutin Mate, Slovenian Minister of the Interior and President of the Justice and Home Affairs Council, met with Czech Minister of the Interior Ivan Langer in Prague today and participated in the joint session of the Foreign Affairs Committee and EU-Affairs Committee of the Czech Senate. The discussion focused on outstanding issues regarding the draft Council Decision establishing Europol and the European Commission's mandate to negotiate visa-free access for several Member States with the USA.
Minister Mate stated: "Today I presented to the Czech Senate the latest version of a compromise text prepared by Slovenia. In our opinion it offers solutions concerning the positions taken by the Czech Parliament. I believe that now the senators will see the document in a more positive light."
On 12 April 2007, the Czech Senate adopted a Resolution recommending that the Czech Government ensure that Czech interests are taken into account in negotiating the draft Council Decision establishing the European Police Office (Europol). The Resolution, among other things, proposes the preservation of Europol's financing by the EU Member States, unanimity as a precondition to adopting certain decisions and assurances that Europol will not conduct investigations and operational activities in the Czech territory. Based on this Resolution, the Czech Republic expressed a parliamentary reservation concerning the adoption of the aforementioned decision in the Council.
Based on today's discussions, the Presidency anticipates that political agreement will be reached at the Justice and Home Affairs Council in April regarding the draft Decision, which is one of the priorities of the 18-month programme of the trio presidency.
Minister Mate was also acquainted with the latest developments regarding the visa waiver programme which the Czech Republic is currently negotiating with the USA. Further, the discussion focused on the Czech position concerning approval by the Justice and Home Affairs Council of the Commission's mandate to start negotiations with the USA in policy areas that fall within EU competence.