20.04.2008
Young people want more opportunities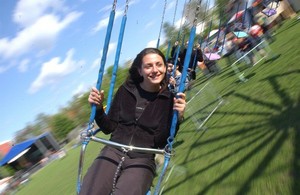 The Youth Event 'Promoting the Participation of Young People with Fewer Opportunities in Society' ended today, 20 April 2008. The event was attended by more than 150 young participants from EU Member States, EFTA countries and Western Balkans countries.
The young people taking part in the various workshops in Slovenia held a lively debate focusing on the subject of young people with fewer opportunities and the role of young people in intercultural dialogue. Speaking about youth mobility, they drew attention to the rather rigid non-harmonised EU visa system that often hinders youth mobility. They also stressed the importance of the participation of young people in decision-making and proposed that dialogue with young people be further strengthened and structured. "We young people believe that we can significantly contribute towards further economic and social development," said Bettina Schwarzmayr, President of the European Youth Forum, after the meeting, going on to say, "Young people with fewer opportunities cannot easily participate in decision making. We therefore propose to government circles that they develop ways and means to facilitate the participation of such young people in decision-making processes. As a result, young people with fewer opportunities would themselves be able to contribute towards alleviating the problems they face in everyday life."
The young people also pointed to the issue of unemployment: there are 4.7 million unemployed young people in Europe, accounting for 38.5% of all unemployed persons in Europe. The young people accordingly drafted proposals for an employment strategy that would ensure greater numbers of high-quality jobs for young people and would link employment with active citizenship and life-long learning.
At the end of the meeting, they presented the conclusions of the Youth Event to Directors-General for Youth who have commenced their meeting today, 20 April 2008, at Brdo pri Kranju. "I believe that the voice of young people must not only be heard but also taken properly into consideration, therefore the conclusions of the Youth Event will provide a basis for tomorrow's discussion on shaping future youth policy," said Zorko Škvor, the chairman of the meeting of the Directors-General for Youth. The young people were satisfied with this promise. Following the meeting, Matjaž Štolfa, the President of the National Youth Council of Slovenia, who was responsible for the content of the Youth Event, noted, "We have made a step forward at the Youth Event and I believe that our conclusions can provide a solid basis for the development of youth policy. We hope that the main parties involved in shaping and taking decision on youth policy will take them into consideration."