25.02.2008
EU Ministers agree on joint action for energy research that will contribute to lowering greenhouse emissions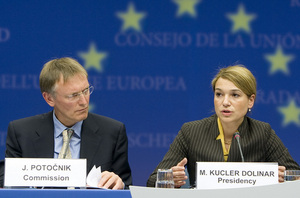 The Member State Ministers responsible for research have reached agreement on the last Joint Technological Initiatives package measure, which establishing a Fuel Cells and Hydrogen Joint Undertaking. According to the Competitiveness Council President, Slovenian Minister of Higher Education, Science and Technology, Mojca Kucler Dolinar, the Regulation will make a significant contribution towards strengthening the European Research Area and EU competitiveness. Joint Technological Initiatives were presented by the seventh framework programme as a new method of establishing public-private partnerships. "The joint undertaking will be a Community body which will support our joint efforts to reduce greenhouse gas emissions through the use of innovative technology. It will thus contribute towards achieving the EU's strategic objectives and meeting Kyoto Protocol commitments," said the Minister.
The EU Ministers also discussed the European Strategic Energy Technology Plan (SET Plan). They emphasised that, in order to meet targets for reducing greenhouse gas emissions and increasing the share of renewable energy sources and energy efficiency, new and more efficient technologies needed to be developed and efforts stepped up to intensify research and find better innovative solutions in this area. They agreed that, in order to achieve quicker and better results within the SET Plan, energy research and policies needed to be coordinated more efficiently at both European and international level.
President of the EU Council, Mrs Mojca Kucler Dolinar informed her colleagues on the state of progress in the legislative procedure and further steps to adopt initiatives – Ambient Assisted Living (AAL) and Eurostars – in accordance with Article 169 of the Treaty establishing the European Community. The AAL dossier, aimed at the development of assistive technologies to support an independent and high-quality life for elderly people, is in the final stage of adoption. On the Eurostars programme to support small- and medium-sized EU enterprises engaged in research and development, agreement has been reached between the Member States. The Presidency and the European Parliament are making efforts to complete the legislative procedure at first reading. Formal adoption could, therefore, be achieved before the end of the Slovenian Presidency.