23.01.2008
Minister of Foreign Affairs, Dr Dimitrij Rupel, presents Slovenian EU Council Presidency priorities before the European Parliament Committee on Constitutional Affairs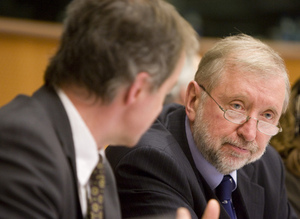 Today in Brussels, the President of the EU General Affairs and External Relations Council, Slovenian Foreign Minister Dr Dimitrij Rupel, presented the priorities of Slovenia's Presidency of the Council of the European Union before the European Parliament Committee on Constitutional Affairs (AFCO).
The Minister began by saying that this year marks the beginning of the new period for the European Union. "We have signed the Lisbon Treaty, enlarged the eurozone and the Schengen area and increased the number of jobs by three and a half million," he stressed. Not only that, but the reins of the Presidency have been taken up for the first time by a new Member State from the European Union's greatest round of enlargement to date. "Slovenia has been preparing for this Presidency for three years. We are aware that it is no easy task that we are facing, but we are sure that Slovenia is capable of performing it well," assured Dr Rupel.
In his address, the Minister focused on the Lisbon Treaty, emphasising the important role of the Members of the European Parliament in the process of framing the Treaty. He added that "the Treaty will increase the level of democracy in the European Union, since all European legislation, save for a few exceptions, will be adopted by the European Parliament and the Council on equal terms under the codecision procedure." The new Treaty will, he said, also contribute to the European Union operating in a more transparent and readily understandable way, as well as increasing its efficiency, since in most areas the Council will take decisions by qualified majority.
"Accordingly, the Slovenian Presidency's priority is to create favourable conditions to ensure that the process of ratifying the Lisbon Treaty in individual countries goes as smoothly as possible. This must be also our common goal, in which the European Parliament can play an important role," was Dr Rupel's assessment.
The Minister concluded that "the Lisbon Treaty also augurs in the time of the European Union's new, enhanced role in the world. We have been greatly concerned in recent years with ourselves and our own problems. Now, however, we may and must as soon as possible face the challenges of the global world and the role of the European Union in the world."