13.06.2008
The period of vague rules for performing road haulage services in the European Union comes to an end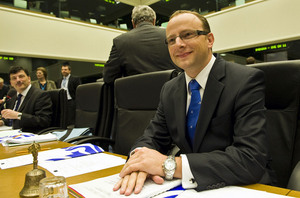 The second day of the meeting of the Transport, Telecommunications and Energy Council, chaired by Slovenian Transport Minister Radovan Žerjav is taking place today in Luxembourg.
During the morning part of the debate, the EU transport ministers held a demanding and profound discussion on the three legislative proposals in the road transport package: the Proposal for a regulation on common rules for access to the international road haulage market, the Proposal for a Regulation establishing common rules concerning the conditions to be complied with to pursue the occupation of road transport operator, and the Proposal for a Regulation on common rules for access to the market for coach and bus services. Following a lengthy debate, the Council of Ministers endorsed the compromise proposal of the Slovenian Presidency. The ministers therefore arrived at a political agreement on all three legislative proposals.
"This ends the period of vague rules for providing road haulage services. From this day forward, we will have clear and transparent regulations to prevent abuses and to contribute to ensuring fair competition, better efficiency and better control in this field," underlined Minister Žerjav, the current president of the EU Transport, Telecommunications and Energy Council  and Slovenian Minister of Transport.
From the very beginning, the Slovenian Presidency has invested substantial effort and energy in achieving a political agreement on this legislative package. Today's agreement represents a major contribution and headway toward a more transparent, more efficient and safer road haulage market. The current compromise proposal of the Presidency strikes a balance in the further improvement of the road haulage market and simultaneously establishes a more just and transparent framework for the entire road haulage sector.
Today's agreement lays down clear and enforceable rules for cabotage, which was the main topic of today's debate on the road transport package. It allows up to three cabotage operations within 7 days following an international journey in the host Member State; if haulers perform only one cabotage operation in the host Member State, they can perform two additional cabotage operations in other Member States as long as they are limited to one operation per Member State within three days and within the total deadline of seven days from the date of discharge in the host Member State.
The compromise proposal enables us to reduce the number of empty journeys on Community roads. It also enables the Member States to use appropriate safety mechanisms to prevent disturbances in road haulage markets if they are due to cabotage.
With regard to the setting up of national electronic registers introduced by the package – the second key outstanding issue in today's debate – the Slovenian Presidency prepared a number of modifications to the Commission proposal, giving Member States more time and flexibility in introducing and developing registers. Various evolutional phases of the registers are therefore harmonised with the requests expressed by the Member States to introduce the registers gradually, which is in line with efforts to lift administrative burdens and reduce costs.