24.06.2008
"The Slovenian Presidency has advocated a Europe in which each individual will be able to lead a worthwhile life," says Slovenian Minister Marjeta Cotman.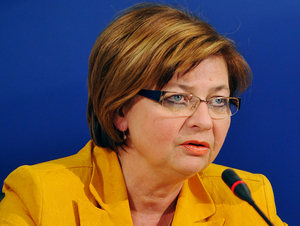 The Slovenian Minister of Labour, Family and Social Affairs, Marjeta Cotman, has presented the results of the Slovenian Presidency in the area of employment and social affairs before the European Parliament Committee on Employment and Social Affairs (EMPL). In her address, she emphasised, "The Slovenian Presidency has advocated a Europe in which each individual will be able to lead a worthwhile life."
The Minister opened her concluding address to the Committee on Employment and Social Affairs with the words, "If we wish to work for the future, we have to invest in people and in their potential, as well as in the systems and structures that mean that Europe will continue to be the best place to live and work. I believe that the Slovenian Presidency has adhered to this guiding principle."
Significant progress has been achieved in the legislative field; in recent weeks, the Slovenian Presidency has achieved a breakthrough in the Council and reached agreement on two Directives of key importance to European workers since they govern the area of working time and the rights of temporary agency workers. The Directive on Temporary Agency Workers ensures that workers employed by agencies enjoy rights equal to those of other employees from the first day of their employment; exemptions are permitted only if the social partners come to an agreement nationally. The Directive on Working Time limits the exemptions concerning the organisation of working time, strengthens workers' security and allows working hours to be adjusted (in agreement with the social partners) to the needs of the work process and, at the same time, facilitates the reconciliation of family, professional and personal life.
Among the achievements in the legislative field, Mrs Cotman pointed out the proposal for a Decision on the European year of combating poverty and social exclusion (2010), supported also by the European Parliament at its June session, and Regulations on the coordination of social security systems aimed at the early introduction of simplified modernised procedures for the efficient use of various social security systems for migrant workers.
Mrs Cotman later touched upon three important topics addressed as part of different events and activities during the Slovenian Presidency: flexicurity and the employment of young people, meeting demographic challenges, and ensuring equal opportunities for all.